Indian cricket team captain Virat Kohli is considered one of the most fit athletes. Former cricketers from many countries, including Wasim Akram, Waqar Younis and Ricky Ponting, have praised Kohli's fitness. He is currently preparing for the England tour and is quarantined in Mumbai.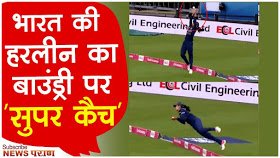 Virat also held a question-and-answer session on social media on Saturday. In which they responded by taking their fitness. Virat said he follows a balanced diet to stay fit. These include vegetables, lentils, fruits and eggs. He also likes to eat dosa and Chinese food.
Also read
Virat said he also takes coffee, nuts and protein bars. Also work out once a day and follow this routine every day. Meanwhile, he also watches TV shows with his wife Anushka Sharma to lighten the mood.
Kohli catches a dive during the ODI series against England in March this year.
Read some excerpts from Virat's Q&A session on social media
Also raed
Fan: Do you share your latest picture?
Virat
Fan: Can you tell me your quarantine route?
Virat: Just train once a day and spend time with family. My routine is normal.
Fan: What does Wamika mean? How is it now Can we see it?
Virat: Durga is another name in Vamika. You can't see Anushka and I have decided that unless Wamika has an understanding of social media, we will not expose her on social media or post a picture of her. He will make his own decision.
Also read
Fan: How do we deal with anxiety, stress and pressure given the current situation?
Virat: You pay attention to what you really need. Good things need to be believed. One should think that anything can happen to you at any moment.
Fan: How do you react to trolls and memes?
Virat
Fan: What was the last search you did on Google?
Virat: Transfer of footballer Cristiano Ronald.
Fan: What do you want to change in your past?
Virat: Nothing.
Fan: Royal Challengers Bangalore or which Indian player is the funniest, smartest and shy?
Virat: Funny: Yujvendra Chahal
Smart: AB de Villiers
Shy: Kyle Jamison
Fan: A picture of Virat's childhood?
Fan: How do you motivate yourself in bad times?
Virat : Work according to routine and always follow it. Don't expect results.
Fan: Share a photo with the jersey of the World Test Championship final?
Virat: Sorry, but at the moment I can't do that. A few days later I will necessarily share a photo of him.
Fan: Tell us about your relationship with Captain Cool.
Virat: Faith and respect.
Fan: Can you understand and speak Kannada?
Virat: Swalpa Swalpa sir, but not everything is understood.
Fan: How did you feel after the vaccination? Fever or any side effects?
Virat: There was pain in the body and general fever. Nothing more happened than this.
This photo is from before the England series played in February-March. Virat then shared a picture of Jim on social media during quarantine.
Read in Gujarati news

Fan: Do you like criticism or praise?
Virat: I like constructive criticism and true praise.
Fan: What do you do in your free time?
Virat: I relax and watch TV shows with Anushka Sharma.
Fan: An old bowler who could bother you?
Virat: Wasim Akram
At the end, Anushka also participated in Virat's question and answer session. Posting it, Virat asked where he kept my headphones. To which Virat wrote in reply, Love on the bedside table.
There is other news too ...